Braking chopper TRANSOMIK® 11BC1 with customized brake voltage threshold in action: "Overvoltage protection of a power supply unit in a winch drive".
Also in 2019 KIMO has supported a visit of pupils from the Kaiser-Heinrich-High School in Bamberg to the Hannover International fair. The students participated in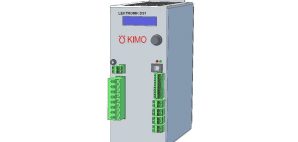 New Kid in Town:
The new LEKTROMIK® DS1 is forthcoming – a combined soft-start and braking device!